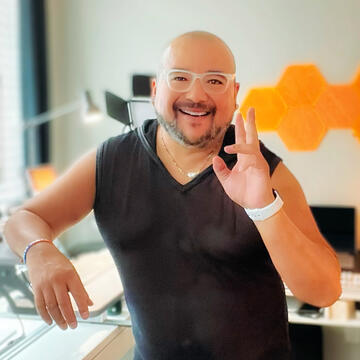 Andrés Cordero, jr., MBA, ACS, ABS, PhD Candidate
(he/they/él) What's this?
---
sex educator, sexuality researcher, & embodiment coach
ROLES
Principal Investigator, The Sacred Intimacy Project [https://www.sacredintimacyproject.com], "Transformational Healing: A Phenomenological Examination of the Practice of Sacred Intimacy as Taught by the Body Electric School," San Francisco, CA, USCo-Lead, Sexploration Project, Sexual health, Erotic life, and pleasure eXperiencing (SEX) Project, [https://www.SexplorationProject.com], Richmond, VA., USPhD Candidate, Sexuality Policy, Department of Human Sexuality, California Institute of Integral Studies (CIIS), San Francisco, CA., USAPost-Graduate Research Fellow, Sexual health, Erotic life, and pleasure eXperiencing (SEX) Assessment, Department of Gender, Sexuality, and Women's Studies,
Virginia Commonwealth University (VCU), Richmond, VA., USAEmbodiment Life Coach, Ecstatic Life Path for Men, San Antonio, TX., USA
BIO
who i am
I consider myself a guide to peaceful living and a teacher of following a soulful path for living in joy in the present moment.I work as a sex educator, sex researcher, and life coach. However, I identify as a pleasure activist, an erotic warrior, a Tantrika, and a sacred intimate. My goal in supporting you as my client is to help you disengage from your mind and to help you learn more about the incredible power of healing that exists in your body.
what I believe
I believe that there is considerable wisdom in the body. Unfortunately our upbringing, cultural constructs, and societal expectations discourage us from listening to our bodies and convince us to remain prisoners to our minds.To live a more healthy life, one free of stress, tension, and frustration, we must work each moment to stay connected to our physical selves. To not only survive, but to thrive, I believe we must stay attuned to our own energies as well as those around us. As part of that covenant, I believe it is vital to honor what is natural and of this earth, and to focus on the present moment, as it is the only thing that truly exists.I recognize and celebrate the gifts bestowed in us of pleasure, presence, and physical sensation. I invite all expressions of humanity, as we are all reflections of our Creator, of our one true Source.
my training and experience
I have considerable training and experience with both the academic/ theoretical, as well applied esoteric and somatic practices that I believe are valuable to living an ecstatic life. I have knowledge in the areas of massage, erotic connection, kink and power dynamics, sacred sexuality, spirituality, energy healing, and life coaching. I also have considerable knowledge in sexual orientation, gender identity, sexual expressions, and sexual health and wellness.
Contact
andres.cordero.jr [ at ] me [ dot ] com
1 [ plus ] 512 [ dash ] 217 [ dash ] 4413